Here, you can buy cheap Xbox Live Gold and Xbox Game Pass Ultimate Cards, and receive the codes instantly after your payment, via our instant delivery system.
Please Scroll Down to view the products we have on offer!
What is Xbox Live?
Microsoft's online service for gaming and content distribution is Xbox Live and Xbox Game pass. Xbox Live lets you participate in online activities on the XBOX, below are just some of the online features:
Play games against people online.
Download the latest demos
Download the latest trailers.
Download full games in the Xbox Live Arcade.
In order to access Xbox Live you must purchase a membership subscription. These subscriptions are available here at CJS CD Keys and are offered at much cheaper prices than retail outlets. Membership subscriptions are available in various formats, including 1 month, 3 month, and 12 month subscription codes.
We also sell Xbox Game Pass and Xbox Game Pass Ultimate subscriptions at discounted prices.
When will I receive my code?
CJS CD Keys dispatches all of their digital products, including Xbox Live Gold and Xbox Game Pass Ultimate Codes, instantly via the Autokey system.
The Autokey system is our in-house developed digital delivery system. Our system works similarly to instant email delivery, but you collect the codes via our website, which allows for a more secure environment than un-encrypted email delivery.
When you view a product, you will see that we have a live stock tracker. This is a unique system which automatically displays how many codes are available for collection. Assuming the code is in stock, you will be able to collect it from our online system instantly after your payment.
Every code we sell is unique and unused, purchased in bulk from leading interactive entertainment distributors.
When you purchase a code, you will receive a scanned photograph of the original code. Here is an example of what you would receive if you was to purchase an XBOX Live Gold 12 Month Code from us: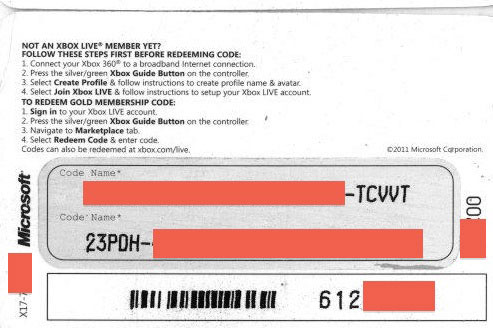 That's all there is to it! We accept a variety of payment methods, including Paypal, Credit Card, Debit Card, Skrill, Bitcoin, and iDeal.
Please check out our products below, and enjoy the savings!